Emergency Preparedness
National Incident Management System
What is NIMS National Incident Management Systems?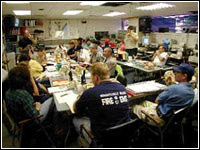 The National Incident Management System (NIMS) was developed to provide a system that would help emergency managers and responders from different jurisdictions and disciplines work together more effectively to handle emergencies and disasters. Most incidents are handled on a daily basis by a single, local jurisdiction at the local level, often by fire personnel, and law enforcement. But even for incidents that are relatively limited in scope, coordination and cooperation among the responding organizations makes for a more effective response.
When the NIMS is adopted and used nationwide it will form a standardized, unified framework for incident management within which government and private entities at all levels can work together effectively. The NIMS provides a set of standardized organizational structures such as the Incident Command System and standardized processes, procedures and systems. These processes and procedures are designed to improve interoperability among jurisdictions and disciplines in various areas -- command and management, resource management, training, communications.