Welcome to MAHC
Telephony: What You Need to Know
Beginning on July 1, 2015 in-home providers and CDS Vendors must have, maintain
and use a telephone tracking system for the purpose of reporting and verifying the delivery of
home and community based services. Are you now or will you be ready for this fast approaching deadline?
Please Click Here for full conference brochure & registration form.

Home Care Advocacy Event of 2015
Advocacy Day is your opportunity to visit with legislators about the issues and importance of home care.
Bring your business cards, distribute valuable information and be ready to talk.
Please Click Here for full conference brochure & registration form.

Home Care Award Nominations
Did you find that missing ingredient this week? Did you find that top chef doing a spectacular job?
Maybe it's time for you to nominate that person for a home care award.
Check out the awards and the nominating process by Clicking Here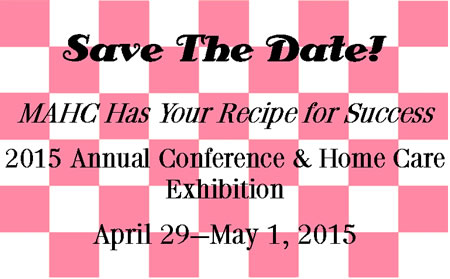 Exhibitor Prospectus - Please Click Here


THE CARING CONNECTION
2014 - 2015 Aide Teleconference Series
September 11, 2014 - June 11, 2015
Click Here for more information
The Aide's Role in HIPAA
February 12, 2015
Flyer & Registration Form

ICD-10 Preliminary Edition Coding Manual
Click Here for the MAHC Member Discount through Decision Health

Clinical Procedure Manual, 19th Edition
MAHC Member Exclusive Discount
(through MAHC's partnership with the Visiting Nurse Associations of America)
MAHC Members - Click Here for order form

GREAT NEWS!


MAHC's Multi-Factorial Fall Risk Assessment Tool
validation study results have been published.
The MAHC-10 Tool is now ready for use!
Click Here

to learn more and to access the tool

.
The Missouri Alliance for Home Care is Missouri's largest trade association representing the interests and concerns of home health agencies, home care companies, hospices and private duty companies.